Blade choice is typically determined by the type and purpose of cut, the hardness and thickness of wood, and the desired trade-offs between cutting speed vs. cutting quality. In general, a wider blade is preferred for cutting straight lines because the blade tends to wander less, and a narrower blade is preferred for cutting curves because it has a much tighter minimum cutting radius. The two main types of blade teeth are "Hook" and "Raker". Hook teeth tend to cut faster and leave rougher results, while Raker teeth tend to cut slower and leave smoother results. There are additional types of teeth, such as Skip, Positive Claw, or AS-S, that are essentially modified versions of the Hook or Raker tooth shapes, but with slight changes to the cutting angle, gullet-to-tooth ratio, tooth set, etc. to provide unique advantages for special types of cuts.
Tooth Style and Recommended Cutting Radius per Blade Width: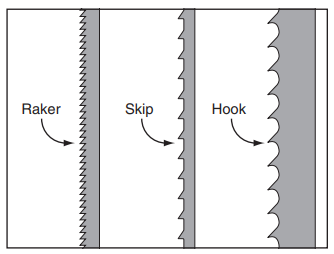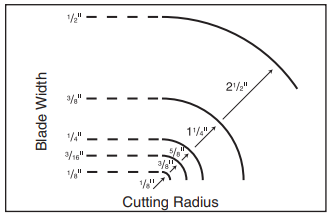 Tooth Pitch
Measured as TPI (teeth per inch), tooth pitch determines the number of teeth. More teeth per inch (fine pitch) will cut slower, but smoother; while fewer teeth per inch (coarse pitch) will cut rougher, but faster. As a general rule, choose blades that will have at least three teeth in the material at all times. Use fine-pitched blades on harder woods and coarse-pitched blades on softer woods.
Please feel to reach out to us HERE if you have any questions about our bandsaw blade options or need additional support.